Allow your employees to work face to face, without wasting hours on travel.
Share content, strategy and thoughts. As fast as you need.
Video Conferences come in handy at management meetings in companies, public bodies and the armed forces. They enrich professional seminars and courses, corporate training and teaching at schools. They are commonly used in medicine, research and design activities. They can be useful in marketing, promotional and cultural events. They have proved themselves in judicial procedures.
The basic variety allows use of the technology by two people. However, there is a wide range of equipment allowing you to draw in significantly higher numbers of participants and access nodes. Hundreds of people can join a videoconference, watching a superb quality transmission on projection screens and huge displays.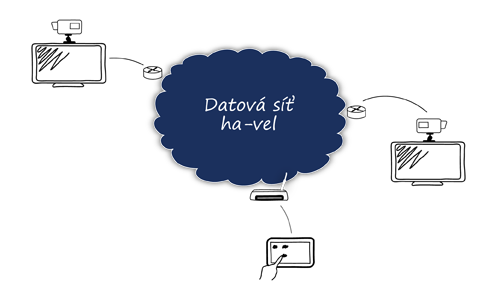 Principal benefits of videoconferencing:
cost economy (both time and money)
reducing hidden costs
face to face communication
faster, better and more efficient management
improved competitiveness
greater flexibility
Using videoconferencing:
communication and management within your organization
remote training and learning
communication with partners and technical support
product development and project management
visual surveillance systems
human resources management
How do video conferences work?
Transmission media must be used in the transmission of sound, images and data within a video conference. This is mostly a data connection on the internet. The international protocol H323 ensures the compatibility of particular videoconferencing systems.
The connection of particular videoconferencing systems can be done as:
point-to-point
point-to-multipoint
The point-to-point connection is achieved with your own videoconferencing systems, while the multipoint connection is implemented through videoconferencing servers, with these varying in design according to the transmission environment they are employed in. The interconnection of two different platforms can be ensured by using videoconferencing network elements. Thus, one can connect from an ISDN network to LAN/WAN and vice versa.
Using these up-to-date technologies, the ha-vel Communication Group offers clients a major communication method for the present and, in particular, for the future: the videoconferencing service.
The videoconferencing services provided by our company are comprehensive: it's not about us merely selling and renting the equipment. We supply the service to our customer in the suitable quality, without them having to ensure any technology or its configuration, or having the matching technological skills. It goes without saying that specialist consultation and training is provided for our customers' staff.
The service can be run on IP (Internet Protocol) platforms with a minimum speed of 384 kbps, connecting through the 10/100 Ethernet interface or a PCMCIA slot for a WLAN card. An alternative option is to use ISDN (Integrated Services Digital Network), with a minimum connection speed of 128 kbps, through the BRI interface. In practical terms, this means that the customer can connect not just to any terminal point we maintain for them, but to any terminal point worldwide, provided it features adequate connectivity and adheres to the global standard H.323.
Our videoconferencing services are available in these modifications:
unlimited terminal point availability for a client on no plan with a multipoint videoconference using a videoconferencing server
unlimited terminal point availability for a client on a special plan with a multipoint videoconference using a videoconferencing server
unlimited terminal point availability for a client on an unlimited plan, with a multipoint videoconference
Data transmission security in the videoconferencing service and response to the potential threat of industrial espionage is ensured by coding using the global encryption standard DES (Data Encryption Standard) and AES (Advanced Encryption Standard).
Interested in a service? Contact our sales department to get an offer tailor-made for you.