ha-loo
Voice services for households and individuals.
Mobile and fixed voice services for individuals and households: that's what ha-loo is about. Take advantage of the most expedient prepaid card on the market and opt for a per-second plan and cost-efficient VoIP service. To achieve even greater comfort and cost economy, combine ha-loo mobile with ha-loo fixed line, with a user interface, and use procedures so simple that anyone can handle them.
The per-second charge plan is just one of the numerous benefits that ha-loo gives you. Thanks to this, you'll save up to 30% on your phone costs. Never pay more than you really have to: every second matters.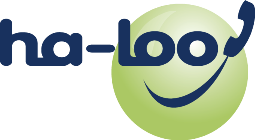 Interested in this service? Check out the ha-loo mobile and ha-loo fixed line websites for specific offers.
Is the per-second tariff the best one?
Decide for yourself....
Hardly anyone can make out what the call pricelists of Czech operators are all about. To further confound perplexed customers, there are different charge periods. As a customer, are you really familiar with what they mean? Have you noticed that someone may charge you CZK 0.60 for a 20-second conversation, while elsewhere, they may charge you CZK 2.00, despite the same rate per minute? A petty thing for some people, sure, but it might stand out in the monthly phone bill.

Find out more, check out the detailed example.